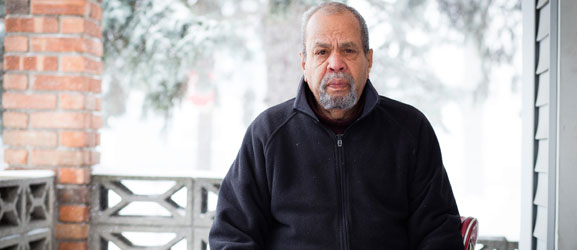 The stories presented here speak of circumstances, choices, and life cycles that resulted in homelessness and vulnerability. This is an opportunity to see life as it really is through the eyes of the chronically homeless; an opportunity to see the diversity in personalities and journeys of those who live outside of our narrow world.

How many of us have volunteered at homeless shelters without knowing a single name of someone who lives in that shelter? We feel good about our charitable work and can't wait to go home to share the stories \ of those we met, provided a meal to, or offered other basic living services to that day.

The homeless and impoverished are real people with backgrounds full of inspiration and love, fear and demons. Looking through a different window we see life through the lens of poverty, suffering, hope, forgiveness, and success

Names have been changed to keep confidentiality but all the stories are real and raw. These are the stories of those we serve here at Bethesda House, those who have come to call this safe haven home.
Read Our Stories
Charles: Resilience in Action
Charles was living in his car in a Price Chopper parking lot when he came to Bethesda House seeking help. He had driven up from New York City looking for a fresh start and was well on his way when sudden health complications kept him from finding employment. He found himself in an unfamiliar area with no one to go to and no support system to lean on until he could get back on his feet.
John: A Family Man
After losing his job, John came to Bethesda House with his pride shattered in hopes of securing food for his wife and two children. With no time to waste and zero income to spare, John was desperate and unsure where to turn. Humbled and humiliated, John came to Bethesda House in search of help and answers to provide for his family.
Andrew: The Collector
Andrew spent half his life time on the streets. When he arrived at Bethesda House he was angry, paranoid and self-destructive. One year later, Andrew has acquired more than a roof over his head as a resident in our House of Mercy – he has found peace of mind.
Charlie: The Wanderer
An unstable childhood led Charlie to be self-sufficient most of his life – serving our country in the army and coming back home to work odd jobs. Isolated and virtually alone, at the peak of his mid-life, he lost everything. Charlie came to Bethesda House ridden with mental illness and substance abuse – demons he would battle the rest of his life. During his stay, he found the support and companionship he had been seeking his whole life, enough to give him the courage and the power to choose to get a little bit better every day.
George: An Independent Spirit
George always embodied the tough guy, playing by his own rules and never letting his guard down even while he was chronically homeless. One night at a shelter left him feeling vulnerable and afraid for the first time and he finally began to ask for help. As a permanent resident of Bethesda House, George has found the safety and stability to better his life and maintain his most valued asset: his independence.
Irene: Seeing through Clear Eyes
Confined to a motel room, the world was Irene's enemy. With sustained patience and diligent contact, Bethesda House's case management were the first to bridge the gap between the dangerous world in her mind and a world in which she could get help. For the first time in her life, Irene is opening up and healing through the power of community and connection with others.
Jack: A Veteran on the Road to Recovery
A traumatic childhood led Jack straight to solace at the end of a bottle, which ultimately led to his professional and personal demise. With no discipline and no purpose to keep him straight, Jack found himself at the bottom of a very deep, dark hole. Only after proper treatment and support from our case management staff has Jack been able to climb out of the hole and begin his road to recovery.
Kelly: A Radiant Re-invention
From the time she was a little girl, Kelly's life was filled with darkness – drug abuse, homelessness, parental abuse, child prostitution. She barely survived the cycle of repeated horrors from her childhood until she came to our House of Mercy. Once covered in filth, today Kelly dawns her favorite color – pink – and wakes up with the sun to greet our staff and guests with a smile on her face.
Luke: Child at Heart
Luke is our gentle giant. At 6'5", weighing 200 lbs, he loves to give hugs almost as much as he loves baseball. His developmental disability, however, exposes a short fuse and outbursts in which he doesn't know his own strength. On the verge of self-destruction, Luke relies on his relationships at Bethesda House to bring him back to earth.
Martha: Blindsided by Illness, Saved through Blind Faith
Martha had it all – a successful career, a loving family, a place to call home – until suddenly, at 50 years old, her mental illness spiraled out of control and she lost all grip on sanity and stability in her life. Martha fell into darkness, succumbing to the voices in her head. At Bethesda House, she is regaining her dignity and her mental clarity; the light in her eyes is returning.
Phillip: The Learner
A man always seeking to better himself in spite of his lack of education, Phillip has proved to be self-sufficient and a hard worker his whole life. Yet even his resiliency couldn't keep him from spiraling into depression and ultimately homelessness after a tragic personal loss. His heart remains broken, but with the support of Bethesda House he has found purpose again to wake up every morning with a fire in his belly to learn.
Testimonials
They accept everyone here. They don't try to change you, they just help you. Here at Bethesda House, I feel like a normal man again. In other places I'm treated like a little kid, but not here.
— Troy
Bethesda House gave me more than just a second chance, they saved my life and I'm on my way to having a life.
— Craig
Bethesda House gave me affordable living and I am very thankful for that Bethesda House has given me stepping stones to a new life and opened my eyes to the real world.
— De
Bethesda House is my second home. Bethesda House has taught me so many life lessons, and I am grateful for every one of them.
— Johnny, former guest and volunteer
Since I have become disabled, I come as often as I can. Bethesda House has helped me get myself together. Bethesda House staff has taught me how to control my thoughts and temper. I'm learning how to calm myself. I learned from Bethesda House how to control myself and how to control my pockets.
— Maria
As a volunteer at Bethesda House, I have been able to overcome a deep depression. Because I am doing something constructive and productive! In the past, I have received help from Bethesda House and as a result, I have been able to live more comfortably. Since I have received services from Bethesda House, I have decided to pay it forward.
— Bobby
If you are interested in a rewarding career in the...
Highmark Announces $550,000 Community Investment to Support Five Organizations' Health-Focused...