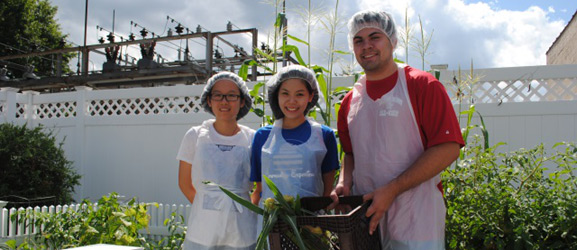 At Bethesda House, our volunteers are like family. We value your time, talent and dedication to serving those who have fallen beneath the cracks of society. Your helping hands at our agency bring the most vulnerable back into the light.
Ways to Help
Our daily operations offer service opportunities in the following areas:
Clothing Room
Intake and document daily clothing donations
Sort clothing to determine items viable for re-use
Prepare room for guests
Interact with guests to help them with wardrobe choices
Community Meal
Meals served Monday – Friday 2:30 PM – 4:00 PM
Prepare and cook food
Serve meal
Help with clean-up
Morning or afternoon hours available
Food Pantry
Intake donations
Organize pantry
Assist guests as they shop, provide nutritional information
Main Location at 834 State Street hours: 2nd & 3rd Tuesdays of each month; 9 AM – 11:30 AM and 1 PM – 3 PM
Yates Village Location hours: 1st, 2nd, and 3rd Thursdays every month; 9 AM – 11 AM
Hospitality Center
Open 8 AM – 4 PM Monday – Friday
Sign guests in
Help serve coffee
Socialize with guests
Help make phone calls
Lead arts and crafts group
Share your talents and learn more about our guests!
Education
Have a passion for healthy living? Volunteer for our on-going nutrition program
Teach guests value of healthy eating
Host cooking classes
Design healthy meal plan samples
Teach meal planning and budgeting skills
Are you a tutor or love to facilitate learning and growth? Our literacy program seeks your talent!
Help participants prepare for GED test
Use educational software to meet each participant at their own level
Provide support and guidance through job search process
The opportunities don't stop there! Outside of our daily operations, groups and individuals can:
"Adopt" residents and families during the holidays
Host a collection drive (food, banks, clothing, linens, hygiene)
Plant and tend our gardens
Perform at our holiday meals
Invite us to speak to your group, congregation, worksite or organization
Share any of your talent and ideas for service!
Ready to get started? Fill out our Volunteer Application form and our Volunteer Coordinator will reach out with next steps.
Thank you Ladies Philoptochos Society of St.George for hosting a...
WAMC Article TImes Union Article